49 Sunflower Drive
Unit
- Fountainhead Properties
New Jersey
Gracious Living! Amazing Floor Plan with Lots of Charm!

Full Description
This home has a warm, inviting kitchen to enjoy time with your important people.
An excellent use of room space with the emphasis on you. Counting the kitchen and living room, you will be simplifying your life and keeping your treasures in sight. Nice open wall space for the big television and the perfect place for your life's collections. A master bedroom with ample closet space and plenty of room for the queen-size set. The private master bath is luxurious, with a linen closet and walk-in shower.
For your guest, the room is just enough not to take away from your personal space and the hall bath is hotel-like with plenty of light, vanity and storage.
The lot is very private, near a corner, well treed and level. The open-air front deck is a comfortable place for your weekend reading place, or a table and chairs.
This home has been well-cared for and loved. It is being sold so the homeowners can be closer to family. Isn't that the best reason to move?

Inquire About This Property
Contact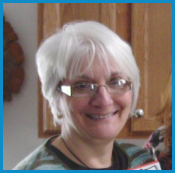 Nancylu Viviano
Fountainhead Properties
1 Rose Drive
Jackson, NJ 08527
(732) 928-3100
nancylu@fountainhead55.com
Mortgage Calculator