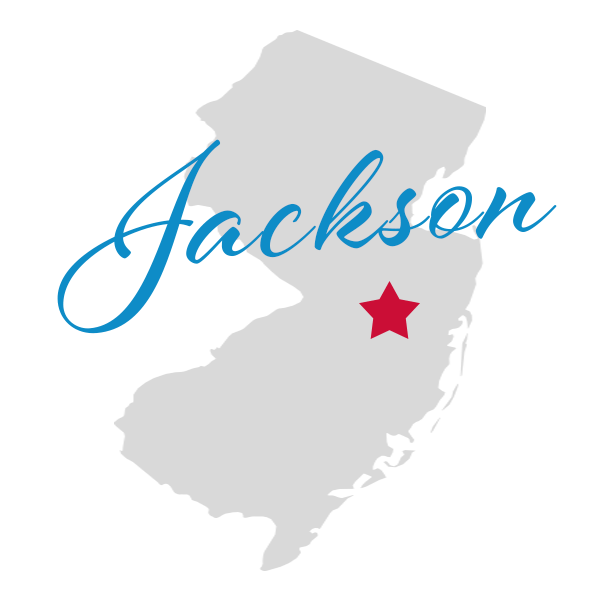 Jackson Township, NJ is named after Andrew Jackson, the 17th President of the United States. Jackson became part of the newly created Ocean County in 1850. As of the 2010 census, the population of Jackson, NJ has grown to 60,000.
From cranberries and moonshinin' to horse country and the thriving community it has become there is still a lot of "rural" in our Jackson suburbia.
Location
Located centrally in Ocean County, "The Gateway to the Shore", Jackson offers easy travel to Asbury, Point Pleasant, Seaside, Island Beach State Park, Philadelphia, New York City, Atlantic City, and all major highways.
I-195 divides the State of New Jersey in half, and Fountainhead is located 2 miles south of Exit 22, the mid-point between Trenton and Point Pleasant. This is an excellent location for travelers on the New Jersey Turnpike, Garden State Parkway, and Route 9.
Public Parks
Our Parks and Recreation department is the largest municipality by area in Ocean County. Consisting of 100,624 square miles it offers activities and open spaces for our diverse population of young and older. A portion of Jackson is located in the Pine Barrens – a protected natural resource area.
Entertainment
Jackson is also home to one of the largest amusement parks on the East Coast, Six Flags. The park includes a 350 acre preserve called the Safari Park. The Safari Park features animals from over six continents.
Shopping
Jackson Premium Outlets is located right in Jackson, and Freehold Raceway Mall is only eight miles away while the Ocean County Mall is about 15 miles from Jackson.
Healthcare
There are hospitals and medical centers within 5 miles of Jackson. The Meridian Health Village  (a mega medical center) is only 1 mile away.
JACKSON HAS IT ALL!
Fountainhead Properties is proud of our conveniently located acres of beautifully wooded land, with peace and privacy, but still room to meet up with your neighbors.